I hope you enjoyed yesterday's guest post from Heidi- she certainly made Colorado sound pretty ideal, right? I actually have a guest post on Ashley's blog today- please go check it out!
Today's guest blogger is my amazing friend Amanda, who has one of the most beautiful blogs I've ever seen! Check out her photography- she has an amazing knack for capturing food and drinks in a way that make your mouth water. She also posts photos (and videos) of her two dogs… and let's just say that they give my guys a run for their money.
And while you're at it- check out her story, too. It's pretty incredible!
**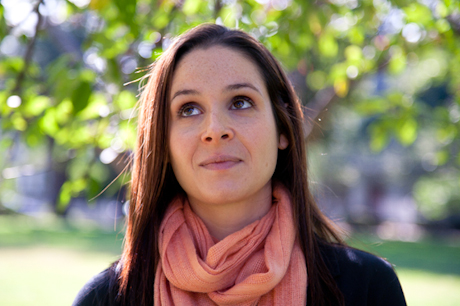 Hi! I'm Amanda and I blog over at Pickles & Honey. During the last two years, I quit my 9-5, moved from Boston to San Francisco and then back again, and left safe, but stagnant to pursue what I love – writing, specifically about healthy food, with a heavy emphasis on dessert! Lauren and I met through our blogs last fall, and we instantly bonded over our love of BodyPump, spinning, frozen yogurt, and iherb shopping addictions. That site is dangerous.
Also, we're both pretty obsessed with our dogs. I have two: Honey (a puggle) and Olive (well, we're not really sure).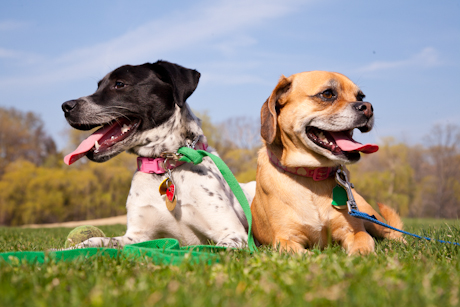 A couple of months ago, Lauren wrote about her amazing experience at the Blend Retreat, including a lemon blueberry granola that everyone there raved about. Not only was I jealous I wasn't able to make it to Blend, I was also bummed that I missed out on that granola! I am obsessed with all things lemon, and like Lauren, lemon blueberry is one of my absolute favorite flavor combinations.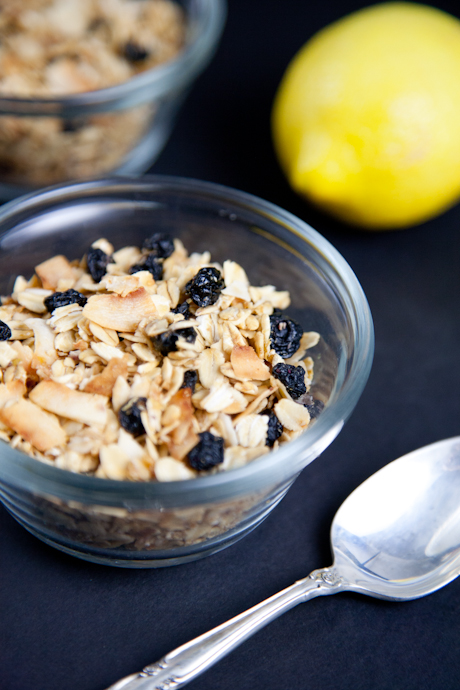 I love making my own granola. It takes just a few minutes of prep work, a handful of ingredients, and it's totally customizable in terms of mix-ins. Also, it's significantly cheaper than store-bought, so you can put the money you save towards things like fancy coconut water and new shoes. At least that's what I tell myself.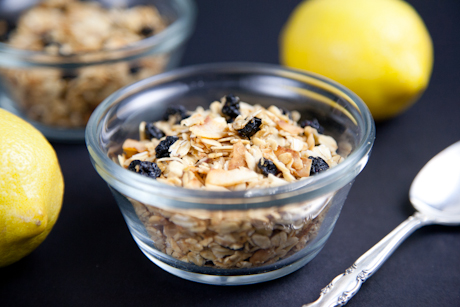 I used the lemon blueberry flavors as the inspiration for this recipe, but I also upped the ante with a generous amount of coconut flakes, a touch of coconut sugar for sweetness, and I subbed out the more traditional canola for coconut oil. There's just a quarter of a cup in the entire recipe – another advantage to making your own. You get to control the oil.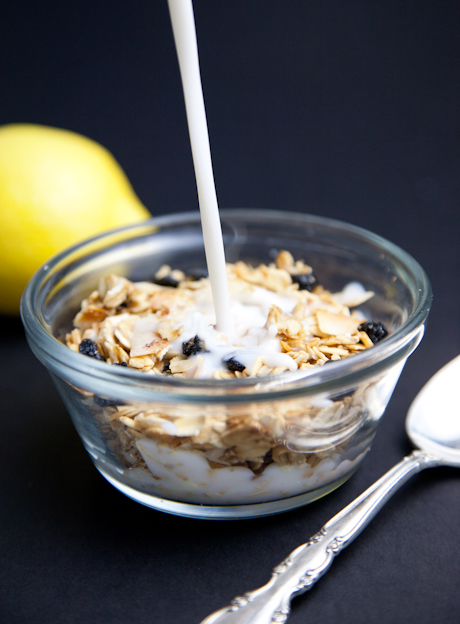 It's bright and summery, with just the right amount of sour lemon, sweet dried blueberries, and crunchy toasted coconut. Lemon in granola is a little bit unexpected, but it might just be my new favorite addition.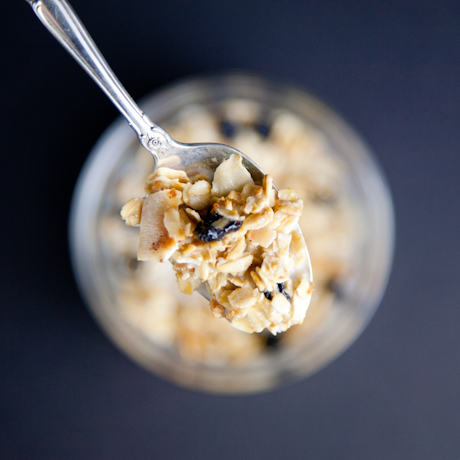 Thanks, Lauren, for the inspiration and the opportunity to share my recipe! I'm so glad we're "blends"!
-Amanda
Lemon Blueberry Coconut Granola
This homemade granola beats out pre-packaged granola any day. It's simple, delicious, affordable, and easily customized to your favorite mix-ins and flavors!
Yield: about 8 half cup servings
Prep Time: 5 minutes
Cook Time: 22 minutes
Ingredients:
4 C. Rolled Oats
1 C. Dried Blueberries
1 C. Coconut Flakes
Zest & Juice of 1 Organic Lemon
1/4 C. Coconut Oil
1/4 C. Agave Nectar (Brown Rice Syrup or Honey will also work)
1 Tbs. Coconut Sugar (or Brown Sugar)
1 Tsp. Vanilla Extract
1/2 Tsp. Almond Extract (or sub additional Vanilla Extract)
Instructions:
Pre-heat the oven to 325 degrees F.
Add all of the ingredients to a large bowl and stir until everything is well-combined.
Spread the mixture onto a large, rimmed, parchment-lined cookie sheet in an even layer and bake for 12 minutes.
Stir the granola and bake it for an additional 10-12 minutes, until it's golden brown.
Allow the granola to cool completely before transferring it to a glass container.
Notes:
Too hot to turn on the oven? This recipe also makes great muesli!
Feel free to play around with the mix-ins. Trade out the dried blueberries for raisins, add in some sliced almonds or a sprinkle of cinnamon – the possibilities are endless!