I find it a little hard to believe that in my (almost) year of blogging, I have never done a WIAW post. I decided that it was high time to change that! I photographed everything I ate (and most of what I drank) yesterday- which includes a lunch that I'm a little bit obsessed with lately (and a recipe to follow).
Here's what I ate yesterday, which started very early: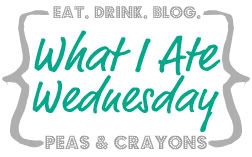 5:00
ish-
A bottle of water with some Fitmixer aminos (I have just one serving left!), a bottle of regular water and a little ginger chew for a quick bite of energy to get me through teaching two classes (Spinning followed by Core Strength), which start at 5:30 am.
8:30ish-
I usually get home from teaching on Tuesday morning a little after 7:30, and am really slow moving to shower and all that good stuff. By 8:30, I had finally made myself some breakfast (to re-fuel!), which was a smoothie (8 ice cubes, frozen spinach, half a frozen banana, 2 T peanut flour, 2 T Sunwarrior vanilla, cinnamon, water, xanthan and guar gum). I love this sight.
I like my smoothies super thick- hence the added gums. I poured it into a bowl and topped it with a little sliced banana, a mix of peanut flour, chia and water, some crumbled protein muffin, a handful of Smart Bran and puffed kamut- and the finishing touch: a sprinkle of sea salt (LOVE the sweet/salty combo!)
I don't know why- but this was the best smoothie I've had in a long time. I have used the exact same ingredients many times before- but I guess I just had the perfect ratio this time?
10:00ish
A cup of tea
using 1 bag of each of these.
It's the best combo ever! I added a little almond milk, stevia and cinnamon. SO darn good.
11:00ish
I needed caffeine, so I brewed some coffee in the French press. I didn't take a picture of it, but you get the idea. I snacked on a tiny handful of trail mix
And some broken caramel rice cake while I waited for the water to boil.
1:30ish
I was so fixated on studying that I actually wasn't thinking about my rumbling tummy (shocking, I know!). When I finally finished a chapter, I headed downstairs to make THIS.
That's egg white crust veggie pizza. More on that later.
I also had a sliced apple with some dip (peanut flour, chia, cinnamon, Greek yogurt) and a big glass o' water.
4:30ish
My stomach was growling. I feel like I'm always so hungry on Tuesdays… maybe because I get up so early? Or because I use all that energy first thing in the morning and am just depleted for the rest of the day?
I had no idea what to make for a snack and was too hungry to think much. I ended up making a little protein muffin, topped with a little Greek yogurt and blackberries and a spoonful of Justin's vanilla almond nut butter.
And I also had a handful of puffed kamut… not pictured.
7:00ish
Dinner!
A salad with a little grass-fed beef and black beans with taco seasoning and lots of veggies. Always a winner.
8:00ish
One last snack…
Another egg white protein cookie- I am nuts about these! This one was made with cocoa powder, egg white powder and a little bit of oats (and a few other things) and topped with a little frozen Greek yogurt and peanut butter. It's a great little guilt-free treat after dinner.
And that was my day!
Oh yeah… back to the egg white veggie pizza.
I came up with the idea for this crust because I was out of tortillas and really wanted to make a wrap for lunch on Monday. I know that I can quickly throw some flour and other ingredients in a bowl and make a flour tortilla – but I wanted something a little higher in protein. My eyes quickly turned to my canister of egg white protein (that I use for everything). I started throwing some ingredients together, popped it in the oven, and hoped for the best. What I ended up with wasn't quite flexible enough to serve as a tortilla for a wrap- but it would make an excellent pizza crust.
Another great thing about this crust? It's super high protein- and under 100 calories. (I don't have exact numbers- just estimating here.) I've made this for lunch the last two days, and will probably continue some variation of it for the foreseeable future!
Egg White Crust (for Veggie Pizza)
2 T egg white protein
2 T oat flour (or any flour- I'm going to try ground flax seed next time!)
1/8 tsp baking powder
salt + pepper to taste
dried herbs of your choice (I used garlic and parsley the first time, and a pinch of Simply Organic Ranch seasoning for this one!)
2 T liquid egg whites
1 T pumpkin puree
Pre-heat oven to 350˚. Place a silicone baking mat on a large cookie sheet (I'm assuming you could also use parchment paper- though I haven't tried). Mix all of the ingredients together in a small bowl and spread onto a the silicone mat in a circular pattern, spreading it out until it's about the size of a tortilla.
Batter will appear thin- but don't worry- it will fluff up as it bakes. Bake in the oven for 5 minutes and remove.
It should peel right off!
Let cool and top with whatever you want!

I've been topping mine with homemade hummus
Followed by all kinds of veggies (cucumber, cherry tomatoes, roasted red pepper, Florida avocado)
With sprouts topping it all off (and a drizzle of balsamic vinegar).
I cut mine up and ate it just like pizza.
This is SO good. Can I say that again?! SO GOOD! I'm already planning a sweet version (a breakfast or dessert pizza, if you will) in my head that I must make immediately- topped with yogurt, fruit and granola. Look out for that version soon!
What's the best thing you ate yesterday?