Two weeks in a row? I am really on a roll with this WIAW business!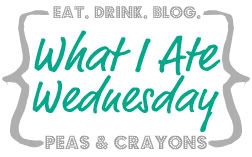 Truth be told, my goal is always to be mindful of what I eat- and taking snapping photos definitely helps. But as long as we're being honest- I didn't photograph
every single bite
that I ate. I did have just a
few
little nibbles that weren't captured by my iPhone- like a few almonds, a rice cake with a little jam before teaching my
early
morning class and
maybe
a little spoonful of Justin's Vanilla Almond Butter sometime in the afternoon… I live on the edge, I know.
Here's what I did photograph, and the majority of my eats on Monday: