Two weeks in a row? I am really on a roll with this WIAW business!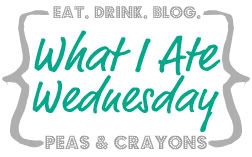 Truth be told, my goal is always to be mindful of what I eat- and taking snapping photos definitely helps. But as long as we're being honest- I didn't photograph
every single bite
that I ate. I did have just a
few
little nibbles that weren't captured by my iPhone- like a few almonds, a rice cake with a little jam before teaching my
early
morning class and
maybe
a little spoonful of Justin's Vanilla Almond Butter sometime in the afternoon… I live on the edge, I know.
Here's what I did photograph, and the majority of my eats on Monday:
Between 5:30 am – 8:00ish:
I took this picture (obviously) after I got home from the gym. I had a bottle of water + BCAA Aminos before/during my workout (which was teaching Bodypump, followed by and AWESOME Kettlebell/Bosu trainer/Medicine ball workout and 10 minute on the elliptical to wind down at the end) and the protein drink afterwards. I actually got the protein drink in my Blend swag bag, and it's been in the back of my fridge ever since!
I'm trying to get in the habit of having some form of protein waiting for me in the car to consume immediately after my workout (yesterday's was a single container of plain Chobani). I tend to wait way too long to actually eat after working out (I like to shower and unwind a bit first), which is not good. At least this way I have something waiting for me, and can have my "real" breakfast afterwards.
And speaking of "real" breakfast, this was it, around 9:30:
2 Van's Light Waffles with some coconut-peanut butter (thanks to Deb's recipe!), banana and heated up strawberries mixed with chia and honey. And a cup of Dandy Blend with almond milk on the side. Mmmmm.
I had a late morning cup of coffee somewhere around 11:30… not pictured. I know you're sad.
Lunch (1:30ish?):
Tofu salad (made with Twin Oaks Fine Herb tofu- the best!!) on top of mixed greens, cucumber and bell peppers
and
1/2 of a sweet potato with Greek yogurt mixed with peanut flour, topped with some baked apple + cinnamon and peanuts
I saved about half of the baked apple for an afternoon snack sometime around 4:30, which was an 'apple pie' smoothie (1/2 baked apple, ice, 1 scoop Sunwarrior vanilla powder, guar + xanthan gum, pumpkin pie spice):
And then I crumbled up a caramel rice cake to put on top. This was an awesome idea.
This smoothie was delicious! I've made it several times using Greek yogurt or whey protein powder, but this was the first time using Sunwarrior. I think I liked this version the best!
A little later on (6:30ish), Greg and I threw an easy dinner together:
Chicken + broccoli stir fry with black sesame seeds and a side of freekeh. This was very tasty, but it was a pretty small portion and I was still hungry after eating it. So, I ate a frozen yogurt push-pop:
Lance thought that if he sat like a good boy, I might give it to him. Not going to happen, buddy.
I love making these! I blended some plain Greek yogurt with chia seeds, strawberries and almond milk and then added a few mini chocolate chips and poured it into the push-pop mold to freeze. The chocolate chips all sink to the bottom (which is really the top)- but that's okay!
One more snack a little later:
Another egg white protein cookie. Dang, I'm obsessed! This had 1.5ish T coconut flour, 1 T egg white protein, 1 T egg whites, 1/2 tsp coconut oil about 2 T pumpkin puree, stevia, baking powder and mini chocolate chips. These taste SO GOOD. (Although a "real" chocolate chip cookie tastes better- I'm not going to lie).
I also had a bite of this:
Yup. That sweet tooth reigns supreme at the end of the day.
If you have a Trader Joe's near you, go buy this now! I love the texture of Mexican chocolate, and the kick from the pepper is awesome!
And there you have it, folks- what I ate on Monday.
What's something great that you've made (or just eaten!) so far this week?