First things first- please take a moment to click on the link below. This is a campaign put together by Blogher (my publishing network) to send THANKS to those that deserve it! As a former teacher, I can not tell you how much the simple words "Thank You" mean and how powerful they are. It's something that I definitely did not hear enough- and needed to! It only takes a second to brighten someones' day!
THANKS! Alright now…

I thought I'd go outside of the box a little bit with today's installment of WIAW and choose a weekend day instead of a typical Monday or Tuesday. Of course, this required me to actually put effort and thought into taking photos of my eats on Saturday- but I did it!
In our house, Saturday is designated as a rest day. This means no alarm clock, no gym, no early morning plans in general. There is typically some type of active rest like a light hike or long dog walk, or something leisurely and enjoyable like that. We decided to break the rules a bit this past weekend and ended up doing a pretty intense workout in the great outdoors, as I mentioned in my post on Monday. Part of our plans included packing a picnic lunch- which I was super excited about!
You would think that with all of the hiking that Greg and I do, we probably pack a lunch to enjoy once in a while. Wrong. In fact, that only times that we have ever packed an actual meal (and not just a snack like an apple or bar) have been on longer hikes in Colorado and Washington state. Our local hikes are usually a lot shorter (no more than two hours) so we generally head out after breakfast and have lunch when we get back home. We planned our 3 hour bike and hike trip to start around 11:30, so that we would eat lunch right in the middle of it. And it was perfect!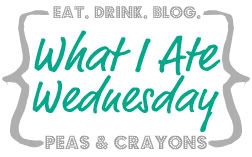 Here's how the day started:
Breakfast- sometime around 9:00?
I mixed 1/4 c. oatmeal with 1/4 c. oat bran, chia, egg whites, banana, strawberries and about 10 other things and topped it with peanuts AND a little peanut butter and almond butter. Whew! While I was eating this I thought: making oatmeal has gotten way too complicated, and it doesn't taste that good like this! From now on, I'm going back to basics- oats, banana, walnuts, cinnamon and maybe a little egg whites (I like that custard-y taste). I'm actually going to elaborate more on this revelation tomorrow…
Greg and I ended up leaving the house around 11 or so and biked along the C&O canal towpath to Harper's Ferry to hike the MD Heights trail. After about an hour of hiking, we picked a spot to sit down and enjoy our little picnic.
I made a sandwich for Greg and had a toasted P28 bagel for me. We shared some veggies, tiny little Asian pears and didn't really end up eating the Popchips. I had brought a Laughing Cow wedge and spread it onto my bagel, which was topped off with a few tomatoes.
The bagel was toasted in the morning, but still tasted really good! I love the chewy texture.
We got hiked back down, biked back down the trail to the car (about 3-4 miles) and headed home. It was around 3:00 at this point, and I needed to head out to do some grocery shopping. I made a little snack to tide me over:
Rice cake with peanut flour "butter" and strawberries. Yum.
At the store, I couldn't resist buying this:
and chugged half of it on the way home… resulting in a little head rush. Does anyone else get a little light-headed from Kombucha? Anyone? Bueller?
Since I was already Kombucha drunk by the time I got home, I shared a bit of Greg's delicious Deviant Ale.
Ahhhh… to be back in Colorado at Oskar Blues.…
I also experimented a bit with the P28 flatbread that I got last week, and made some ridiculously, amazing, delicious, awesome crackers.
I cut half a flat bread up into little triangles, coated them with a little nonstick spray, cinnamon, unsweetened cocoa powder and stevia and baked in the oven (I don't remember the temp. or how long… maybe 5 minutes at 350?) I will definitely be making several other versions of these crackers- both sweet and savory. SO many possibilities!
Later on that evening, we eventually made dinner, which was grass-fed sirloin marinated in red wine, Braggs, balsamic vinegar and pepper. I had mine on top of a salad:
I love a good steak salad- and it's not something I have too often! (Don't ask me why!)
I also had a side of toasted cinnamon raisin Ezekiel bread. I've been obsessed with it since Ashley posted a photo of her egg sandwich (made with the same bread) on Instagram last week. I don't know why I hadn't bought any in so long!
And it's best just toasted with a little butter.
We also had some of the same wine that was used for the steak marinade….
After dinner, we watched I Love You, Man and shared a bowl of goodness.
Greg and I are both addicted to popcorn. I generally make it in the air-popper and add a little melted butter and really good quality sea salt (or truffle salt… whoa). The dogs are always RIGHT THERE when we have popcorn, just in case any kernels go astray….
I'm pretty sure that we fought to stay awake until about 10 pm to finish the movie. I know what you're thinking- I live on the edge. I'm telling you though- the older I get, the more I enjoy just being at my house, cooking a fantastic meal and watching a movie with the dogs and Greg on a Saturday night. Pure happiness!
Do you typically eat differently on the weekend as opposed to weekdays? What's your favorite thing to do on a Friday or Saturday night?