Thanks for all of the blog birthday/blog-a-versary wishes yesterday. I can't believe it's only been a year- it definitely seems like much longer! Like I said- I never would have dreamed all of the possibilities that have come from this blog- who it's introduced me to, and where it's led! I'm excited to see what happens during year #2!
For this week's WIAW post, I chose to show my eats from last Sunday, since it wasn't just any ordinary day. You see, us Marylanders have a special love for ONE thing- and folks that aren't from these parts don't necessarily "get it." If you're wondering just what that love is, let me give you a little peek:
Those are Maryland blue crabs (which have a blue shell before they're cooked).
I'll admit it- I am a total crab snob. I am horrified when people say that they "go eat crabs" and mean that they get king crab legs at Red Lobster or Joe's Crab Shack. That, my friends, is not "going to eat crabs." That's eating crab legs. HUGE difference.
Eating crabs in Maryland often means "crab feast," which equals a buschel (or half… or two, depending on the crowd!) of hot, steamy crabs that were caught in the Chespapeake Bay, lots of Old Bay and beer. And it's an EVENT. If you're going to a crab feast, plan to commit to staying all afternoon. Crab picking takes time- and anyone that says that it's "too much work" can just get right out of town. There's a technique to crab-picking, and most of us Maryland natives were taught how to do it when we were very young. You may need a mallet, a knife, or something similar, but the goal is always to get every last bit of meat out of that shell.
You can dip them in malt or apple cider vinegar.. some people even use melted butter (which I think is a crime! It should only be used for lobster!)- but good crabs don't need anything but some Old Bay. I'm usually the most annoying type of crab picker. I clean each crab and just keep piling up the meat, so that I can enjoy it all at once (most people eat as they pick)- I like to see the fruits of my labor.
Anyway- I'll get back to the crabs in a bit.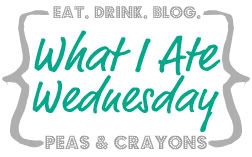 Let's see how the day started. I got the gym about 30 minutes before my spin class started and did this workout twice:
It was great! My favorite workouts are definitely those that are just kind of thrown together like this. And this particular workout was a good balance for the 50ish minutes of teaching Spinning class that followed!
Needless to say, I was pretty hungry by the time I got home and had this:
That's a 3 egg-white omelet with a bunch of veggies thrown in the middle. I also had an English muffin- 1/2 topped with coconut-peanut butter (OMG) and banana and the other with light cream cheese, peach slices and cinnamon. The omelet was good, but was missing something…
That's better.
(FYI- this is the coconut peanut butter. I got this jar on discount because it was dented. That dent didn't affect the taste!)
That stuff in dangerous, I tell ya.
We headed over to my parent's house around 1:00 and snacked on some chips and salsa, hummus, tomatoes and carrots.
When all of the siblings got there (all 5 of them, plus significant others!), it was time for the main event!
Crabs and beer. Beer and crabs. Oh my heavens.
I also had some other things on the side:
Some corn (with Old Bay!), chips, hummus, tomatoes, carrots and some delicious "Kale Superfood Salad" that I had made. It includes kale, beets, carrots, cranberries and walnuts (amongst other things).
I'll post the recipe to this soon- trust me- you will WANT to make this over and over and over again.
I ended up only eating four crabs. If you're not familiar with picking crabs- I'll tell you- that's not a whole lot. Each crab yields a pretty small amount of meat (which is why crab meat is SO expensive to buy). I did end up picking about 8 more crabs though, so that I could take that meat home with me.
A little while later, we all dug into this:
Gosh, that watermelon was good.
And then we had dessert. It was my nephew Kaleb's 7th birthday, so there was a cake for him, along with ice cream and cookies.
Of course, I had to have a little of each! The cookies were from this awesome local organic farm that sells the most amazing homemade baked goods. Check 'em out!
(The EA eggs means England Acres eggs- from their farm.)
I definitely went back for a second cookie.
We headed home around 6:00, and I wasn't really all that hungry (since we had been eating all afternoon). But around 7:00, Greg and I both decided to have something to eat. He heated up some leftovers from the night before, and I had a mini bowl of Cheerios with sliced banana and milk.
Ever since Jen said something about Cheerios and banana on my blog last week, I've been dreaming about it! But now I remember why I never buy cereal- that box is already half empty!
Greg and I also shared a bowl of popcorn.
Certainly the most healthy, well-rounded dinner I've ever shown on this blog, right? Hey, we can't be perfect all the time.
Have a great Wednesday!
Have you ever been to a crab feast? What are the "famous foods" where you live?
;