Wow… I haven't even talked about the Superbowl yet. With all of the excitement going on around here, I completely neglected to talk about how extremely happy I was with this year's Superbowl! I have wanted the Ravens to play again in the Superbowl so badly ever since their first victory twelve years ago, and it finally happened! And even better yet- THEY WON! I was all decked out with my jersey, earrings and even had sparkly purple Jamberry nails (one one with little football helmets)!
Even if you're not a football fan, you can still appreciate a good Superbowl party. After all, it's all about the food, right? We kept things pretty low-key this year and just invited my parents and our friends Will and Sara over to watch the game. It was nice to keep it small and not have to plan a big party (although that's pretty fun too!). Plus, we're trying to keep the house spotlessly clean all of the time, and that's no easy task!
The day started out at the gym… a very long morning at the gym. I taught my regular Spinning class at 8:00 am, but was also teaching Bodypump afterwards, which doesn't start until 9:30. Spinning class is 45 minutes long (usually with another 5 or so for cooldown/stretching), so I had about 40 minutes in between classes. I ran next door to the grocery store really quickly and then spent the last 15 minutes stretching. (I should have just foam rolled the whole time, but I didn't.
) During my two classes (and in between) I consumed a lot of water (plus a little fitmixer aminos):
I finally left the gym around 10:40, after being there for almost three hours. I like to shower right away after teaching, so after doing that, I made myself a small wild blueberry pie smoothie.
This was just to tide me over while I started prepping the food I was making for the game later on, which took a bit longer than I expected! After finishing all of the preparations and cleaning up, I made myself a bowl of perfect oatmeal (using frozen peaches instead of cranberries).
I have concluded that it is impossible to take a pretty photograph of food while it is still steaming hot.
I also finally had the coffee that Greg had left for me from the morning.
Since it was nearly 1:00 by the time I had "breakfast," and guests were arriving at 5:00 (and eating would follow shortly after!), I didn't want to eat a real "meal" in the afternoon. When I did get hungry again, I snacked on a Fuji apple
and had a few spoonfuls of Greek yogurt (not pictured).
Everyone that came over brought food to share, which was most appreciated!
My mom made wings, which are not really my thing, but Greg loves them. And I have to say, my mom's wings are pretty good. I think I only had one, because I was much more focused on all of the other delicious food that was on the table. My mom also brought some delicious locally-made bread, cheese and carrots and these cookies that she bought from her favorite local farm (we're all big on supporting local farmers and businesses!).
Ahh they were all so good!
Sara made the most delicious guacamole (with liquid smoke!) and an incredible green bean salad- I'm going to be coping both of the recipes soon.
I bought hummus and served it with some cut up veggies and crackers, but the SOUP was what I was really excited about! Two weeks ago I posted a photo of the delicious sausage and lentil soup that my friend Georgia made, and I did my best to re-create it for the game.
Lentil and sausage soup is totally football food, right?
It wasn't quite as good as hers, but pretty darn close! And for the record, the leftovers the following day tasted even better.
Lentil, Sausage + Spinach Soup
1.5 c (dry) green lentils
3-4 c water
3 quarts low-sodium chicken stock (or broth)
1 bay leaf
1 cinnamon stick
1 T turmeric
1 T ginger
1 T cumin
1 package Italian turkey sausage (I used Martin's brand from Common Market)
1 c chopped carrots
1 c chopped onion
1 T chopped garlic
salt + pepper to taste
10 c (uncooked) baby spinach leaves (can substitute with kale or any other greens!)
Place the dried lentils and water into a large container, seal and let soak overnight (or for at least 6 hours). After soaking, drain and rinse lentils and place into a large pot with enough water to cover them and the 3 quarts of stock. Add the cinnamon stick and bay leaf and bring to a boil. Reduce heat to a simmer, and add ginger, cumin and turmeric. Stir well and cook on low for another hour. Meanwhile, brown the sausage in a saute pan (make sure it's crumbled up). Once sausage is browned, place it into the pot with the broth and lentils. In the same saute pan, cook the carrots, onion and garlic until soft, and then add to the soup mixture. Let cook on low for an additional 30 minutes, and gradually add salt and pepper to taste. A few minutes before serving, add the spinach into the pot and stir well. It should wilt down within a few minutes.
I cooked mine earlier in the afternoon and then put it in a crock pot to cook on low for a few hours. You could probably also just throw all ingredients into a slow cooker from the start!
I only drank about 1/2 of a beer, total.
Pathetic.
Water consumption for the day:
(about 75% of that was before 11:00am!)
I made it to bed around midnight, and (luckily) had subbed out my 5:30 am Spinning and Bodypump classes the next morning! I "slept in" until 7:00 am the following morning, which I haven't been able to do on a Monday in forever! Regardless, any lost sleep was worth seeing my Ravens become Superbowl Champions once again!
Happy WIAW!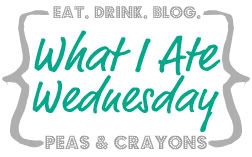 What are your favorite Superbowl foods?