Good morning!
Because I know that you are SO curious about the weather here, I'm happy to report that the arctic freeze is over and we're enjoying a heat wave with temps in the 40s! I'm just glad to be able to spend more than five minutes outside without my hands and face going numb.
It was still pretty cold this past Monday, which is the day that I chose to photograph my WIAW eats.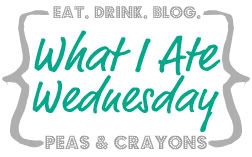 I woke up early, worked out, got cleaned up and hit the road. I had planned ahead the night before since I knew I'd be in a bit of a rush in the morning and filled an empty peanut butter jar with a protein muffin, plain 2% Greek yogurt, cranberries and sliced banana. After all of the sugar I had eaten the day before, a sweet breakfast was really the last thing I wanted, but it was easy to eat in the car.
The first order of business was to meet up with my friend Katie (and Adrienne!!) for some Blend-related stuff (since I am now filling her shoes as the third woman on the planning team). We took care of everything we needed to and then enjoyed some coffee and conversation over at Panera. And this little girl with the cream cheese mustache thoroughly enjoyed her bagel.